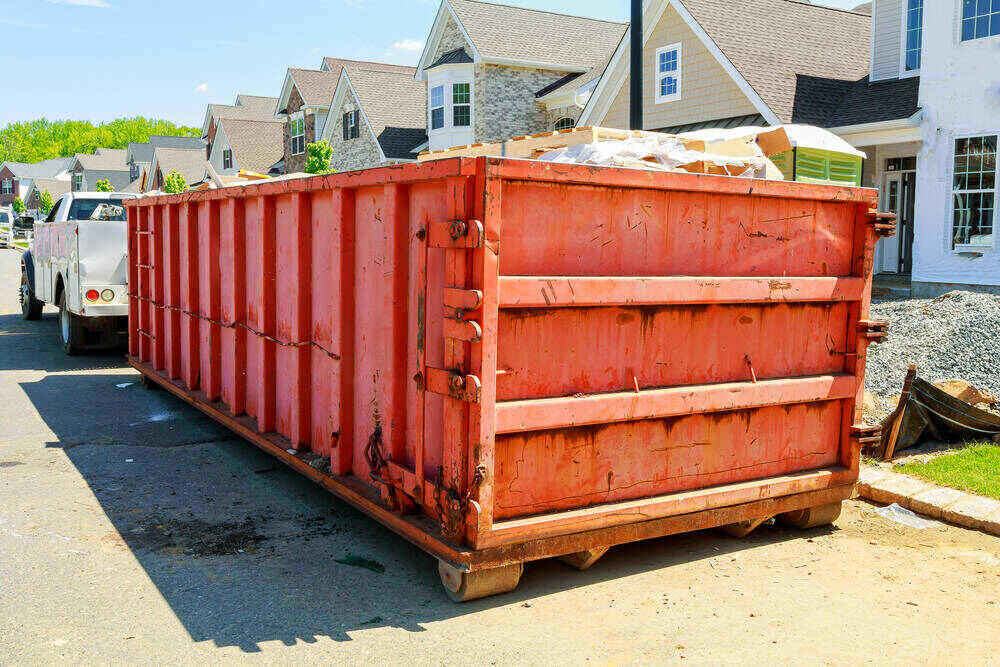 How Much Does It Cost To Rent a Dumpster?
Dumpster Rental Prices
At Discount Dumpster Service, you can be sure that you are getting the best deal for your money. We are proud to be the number one dumpster rental company in the United States.
There are several reasons you might choose to rent a dumpster, including moving, renovating a home or building, or cleaning out a shed or garage.
The cost of a dumpster rental varies based on your needs, and at Discount Dumpster Service, we take pride in offering low prices for every project.
Call us at (866) 722-4842 to get a free estimate today!
How much does it cost to rent a dumpster near me?
You may be asking, "What are dumpster rental prices near me?" On average, it costs between $220 and $720 per week to rent a dumpster through Discount Dumpster Service.
What's your zip code? A lot depends on where you live as well as what dumpster sizes you are looking for. Basically, you are renting dumpster space, so the difference between a small roll-off container and a 30-yard dumpster depends upon the size of your removal project as well as your zip code.
Dumpster prices also vary depending upon what materials you are removing, since bulky construction items like concrete, brick, or stone will need a sturdier container than cleaning out the attic.
Generally, our dumpster rental prices vary based on several factors, including:
Location and zip code
Dumpster size
Length of time you need the dumpster
Amount of trash you need to dump (often measured in weight by ton)
What materials you need to dump
Scope of the project
Delivery distance
Dumpster fees
What Dumpster Size Do I Need?
When determining the size of the dumpster that you will need to rent from Discount Dumpster Service, you should first assess the size of the space for the dumpster. If this is a larger space, such as a lot, you will have ample room. If you are getting a dumpster for your driveway, you will need to measure the length of your driveway first.
From there, you should consider the amount of garbage your project will create. Each size dumpster comes with a limit upon the amount of trash it can hold.
It is always better to assume that the amount of trash you have will be more than anticipated, rather than less. If you end up producing less trash than you expected, you will be fine, and under the weight and capacity limits. However, if you exceed a garbage amount or weight limit for your dumpster, you will often incur a fee that will be added per ton of trash that goes above the limit.
If you are working with professionals on your project, they may be able to assist you in choosing what size dumpster you will need. That will aid in your calculation of dumpster prices.
Check out our guide on dumpster sizes for more information.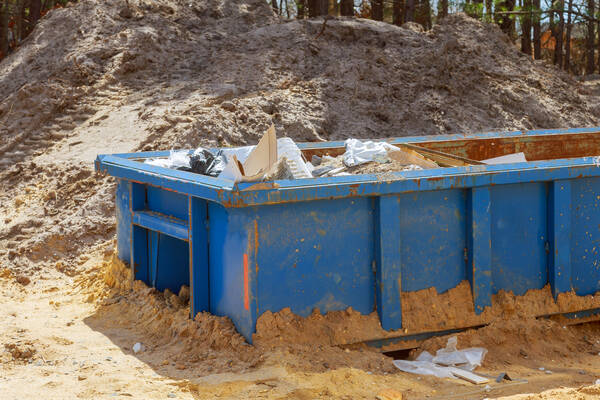 Dumpster Sizes Based on Project
You can combine the information you have about the size of your dumpster space and your project to pick the best dumpster size for your needs and therefore, calculate your dumpster prices. At Discount Dumpster Service, you can rent the following sizes of roll-off containers:
10 Yard Dumpster
A 10-yard dumpster is typically helpful for smaller home improvement projects, smaller "spring cleaning" projects, and items that would be too large for your waste management collectors to accept.
15 Yard Dumpster
15-yard dumpsters are good for smaller remodeling projects such as kitchens and bathrooms, smaller demolition projects, and removal of siding.
20 Yard Dumpster, 30 Yard Dumpster, and 40 Yard Dumpster
20-yard dumpsters, 30-yard dumpsters, and 40-yard dumpsters work well for full-house cleanouts, remodels, and landscaping refuse.
Multiple Dumpsters
Some jobs may require you to rent two or more dumpsters. You can also sometimes get one dumpster switched out for another one that is the same size several times during a week or month. You can pay an additional fee to have the roll off hauled, dumped, and returned to your job site.
Dumpster for Rent: Cost by Dumpster Size
Standard Dumpsters
The average weekly rental prices for dumpster rental services are listed below. Keep in mind that the prices can vary by several hundred dollars based upon the circumstances explained above, particularly geographic location.
10 yard dumpster: $350
15 yard dumpster: $400
20 yard dumpster: $450
30 yard dumpster: $500
40 yard dumpster: $550
Small Dumpsters
Small dumpsters come in sizes ranging from 2 yards to 8 yards. The average cost per week for a rental ranges from about $115 to $250.
Dumpster Rental: Cost by Time
Daily Rental
Few companies do daily rentals for dumpster service, considering that the typical project takes customers several days. Because of this, sometimes if a company does agree to one-day rentals, daily dumpster rental prices from a company will almost always be the same as that of weekly dumpster rental prices.
Weekly Rental
Average weekly rental prices can range between $350 to $550, depending upon the company and the dumpster size.
Often, the cost for a one-week rental versus a two-week rental is very similar – for example, dealers may add $10 per day as an extension fee once a rental has already been out for a week.
Monthly Rental
The average monthly rental prices can range significantly, from $600 up to $1,200. The dumpster size is the biggest factor for the difference in cost.
If you need to rent a dumpster for several months, however, be sure to look for cost-efficient discounts for extended period rentals.
Flat Rate vs. Variable Rate Prices for Dumpster Rental
You can rent a dumpster using flat-rate or variable-rate pricing.
A flat rate encompasses everything you will need when it comes to dumpster rental all in one price. This includes the cost of the rental itself, delivery and pickup, relevant dump fees, and even taxes. The condition for flat-rate dumpster rental is that it also outlines a specific weight limit and type of trash that you must follow.
A variable rate adds in each of the costs of dumpster rental separately. With a variable rate, you will have no predetermined weight limit or trash-type rule.
Sample Invoice for a Flat-Rate Dumpster Rental
Your invoice for your flat-rate dumpster or roll-off container rental will list out prices for both the container you are renting and the description of the item. The description will include the terms and conditions of the rental, such as the weight limit, the rental period, and what trash is or is not accepted. The invoice provides a fixed rate for this container and its related services.
The only reason a customer would ever have fees added to a pre-determined flat rate is if they did not follow the guidelines that had previously been agreed upon by both the dumpster rental company and the customer.
Sample Invoice for a Variable-Rate Dumpster Rental
The big difference in choosing a variable-rate dumpster or roll off container rental is that you may not know for sure the total price that you will pay until after you are completely done with your rental. Some people prefer variable rates because it allows them to see the individual cost for every single aspect of the process. It often comes down to preference, but bundling different services is usually far more cost-effective.
For example, an invoice for a variable-rate dumpster rental could list the prices for the container, a roll-off container fee, a dump fee, taxes, franchising fees, and administrative fees.
People typically choose variable-rate dumpster rentals when this is their first dumpster rental project or if they do not know in advance what materials they will be disposing. The flat-rate dumpster rental cost is often less expensive, but it requires more detailed preparation as well.
Roll Off Dumpster vs. Commercial Dumpster
At Discount Dumpster Service, our focus is on renting dumpsters to homeowners or commercial customers (for example, to be used at job sites) for temporary purposes. We specialize in roll-off container dumpsters. They often come in bigger sizes, the largest of which is 40 yards.
Commercial dumpsters are smaller, usually only two yards to six yards. Businesses typically use these containers on permanent or long-term dumpster sites. Commercial dumpsters are the kind used at apartment buildings, dormitories, or public schools, as well. Commercial dumpsters accept a wide variety of waste, including yard waste and food waste. Because they are permanent fixtures, a waste management company generally empties them on a regular schedule.
Trash Materials Permitted and Not Permitted for Dumpster Disposal
Permitted trash items typically include:
asphalt
appliances
alkaline batteries
bathroom materials
concrete brick
drained appliances
drywall
electronics
furniture
flooring
wood
siding
spray cans
stones
storm debris
tiles
yard waste
concrete brick
Trash items not permitted typically include:
adhesives
asbestos
car batteries
chemical products
computer batteries
contaminated soil
any flammable liquids
food
fuel
gas
any hazardous materials
herbicides and pesticides
hot water tanks
most cleaning products
ink
mattresses
medical waste materials
microwaves
oils and oil filters
fluorescent tubes
paint cans
propane tanks
radioactive materials
refrigerators
resins
solvents
tires
unused drugs and prescriptions
used needles or other used sharps
Note: Some states have specific regulations on how to dispose of electronics/e-waste.
Dumpsters for Rent: Pricing Factors
Type / Weight of Debris
Debris Type
Landfills in different cities have different disposal fees for waste. The costs can vary for residential debris, green waste or yard waste, and home improvement materials.
In some cases, cities charge additional costs for heavier or bulkier items. These can include mattresses and couches as well as some permitted electronics, such as computer monitors or televisions.
Weight of Trash
Companies using a variable-rate pricing system have additional considerations when it comes to estimating the cost for the weight of your waste. Reasonably, home improvement and construction materials weigh more than residential materials, such as those from home cleanouts. However, sometimes they calculate the fee based on the amount of space that trash takes up in addition to the fee from the landfill. Be sure to check with your dumpster company to confirm how it prices these items before you begin the process.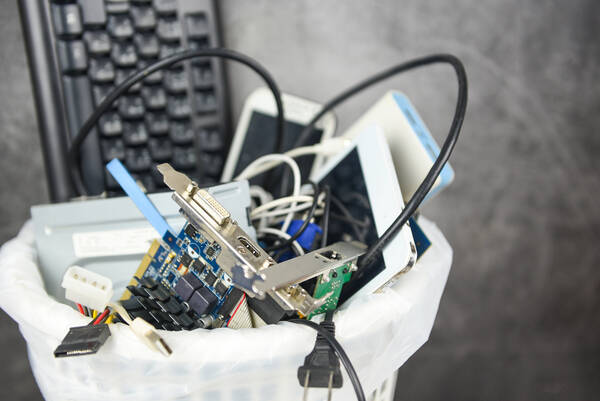 Disposal of Hazardous Waste
To keep your local landfill safe, municipalities have separate systems for disposing of hazardous waste. Some examples of hazardous waste include:
chemical materials
non-alkaline batteries
certain medical waste
You must dispose of hazardous materials at specific facilities for this purpose. Often, you will face an additional transportation cost to transport these hazardous items to the specialized facilities.
Dump Fees
The typical cost for a landfill dump is about $40 per ton of waste. We include this in the cost provided to you in your free estimate from Discount Dumpster Service.
Overflow Fees and Overloading Fees
Overflow fees and overloading fees are different but similar issues that can add-on to your dumpster rental cost. Overflow occurs when items are sticking up out of the dumpster, creating a potential hazard when drivers are moving the vehicle. This is not only unsafe, but it is illegal. For this reason, you will be charged an additional fee if your dumpster overflows. This is why we recommend always leaving space at the top of your dumpster.
Overloading is not based on items sticking out of the dumpster but rather going past the weight capacity of the dumpster. We specify the maximum weight in the initial description of the size of the dumpster that you choose. For example, a 10-yard dumpster holds a maximum weight of about two tons and a 20-yard dumpster holds a maximum weight of about four tons. Weight limits vary for each city, so be sure to ask exactly what your weight limit is.
Landfills charge an additional fee of at least $40 per ton if you exceed the maximum weight allowed in the dumpster. In some cases, this fee can be up to $100.
Late Fees
As we outlined above, dumpster rental prices for a one week versus a two week rental are usually the same or similar. If you need your dumpster service for longer than you had planned for your project, contact us to extend your rental. Dumpster late fees are often about $5 to $10 per day. It's always a good idea to ask when first getting price quotes, even if you don't think that you will need to extend your rental past the standard time frame.
Location
Your location is a big factor when it comes to the cost of your dumpster. If you do not live near a dumpster rental location, you may have to pay for the fuel cost in addition to basic dumpster delivery costs. This is typically true in more rural areas.
For customers in cities, sometimes we see costs added due to space constraints. For example, a small city parking space for a dumpster may require that you do two separate clean-outs for a project (and two different dumpster rentals) rather than renting one larger dumpster.
Another location-based cost that clients sometimes face is for a permit for parking the dumpster. This can be true if you do not have your own driveway and your city requires a permit for dumpster parking on the street near your home.
What is the Average Price of a Dumpster Based on Location?
The average price of a dumpster varies significantly based on location. On our locations page on the website menu, we direct you to a list of the more than 100 cities where we provide dumpsters for rent.
For many of the locations listed, we also provide rental of dumpsters within 40 miles of several zip codes in the area, so if you do not see your city or town on the list, we recommend clicking on a nearby city or town to see if your location meets our requirements for delivery.
We have calculated the dumpster rental prices of several major metropolitan areas based on a dumpster size of 20 yards.
**Prices change daily based on supply and demand, so give us a call for current rates in your area.
Frequently Asked Questions
What are the most common reasons clients rent dumpsters?
Some of the most common reasons for roll-off container dumpster rentals are home remodeling, garage cleanouts, moving, estate cleanouts, tree removal, yard waste, and construction jobs.
How soon can dumpster delivery occur after I place my order?
Most of the time, we are able to send your dumpster for delivery within just one business day. During times that our services are in high demand, it could take up to three or four business days. However, we will give you an estimated delivery date when you place your order to keep you informed throughout the process.
Do I need to be at my location for delivery or pick-up of my dumpster?
Usually, you do not need to be there when we deliver or pick up your dumpster. This is one of the reasons it is important to provide us with detailed instructions for your dumpster delivery and pick-up.
What Makes Discount Dumpster Service Stand Out?
At Discount Dumpster Service, we are committed to serving your dumpster rental needs above all else. With us, not only will you get affordable dumpster rental prices, but you will work with a team that will be there to help you and answer your questions every step of the way. We are prompt and reliable in our dumpster delivery, and experienced and knowledgeable in our ability to collaborate with our clients. No matter the size of your project, we can help you find the perfect dumpster today.
Contact us today at (866) 722-4842 for a free quote on dumpster rental prices!