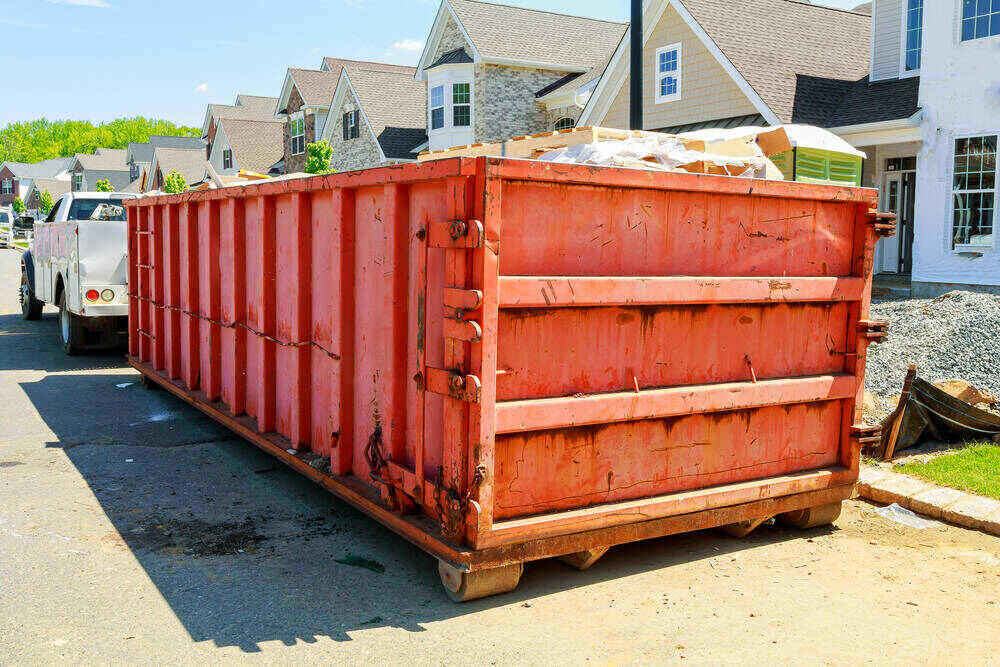 Roll Off Construction Dumpster Rental Services
Discount Dumpster Service is here to help with all your construction dumpster rental needs. With locations across the United States, you can always come to us for fair prices and excellent customer service.
Need to rent a dumpster for a small or large construction project? Call us today at (866) 722-4842.
Roll Off Dumpsters for Different Construction Projects
If you need to haul waste away from cleanup, construction, or demolition project sites, a roll off dumpster is a solid choice. These are large open-top containers that allow you to toss in waste from anywhere on the job site. Roll off dumpsters are sometimes referred to as a roll off containers, roll off boxes, or debris boxes.
Roll off dumpster rentals are a hassle-free solution for homeowners and contractors looking to leave a clean, mess-free site behind them after the work is done. There are several types of roll off dumpsters to fit different projects and materials.
How Much Does It Cost to Rent a Roll Off Dumpster?
The price of renting a dumpster can be as low as $200 or up to six times as much. Roll off dumpster rental costs will depend on factors like the container size, length of the rental period, the type and amount of construction waste, and your location. Check out our guide on dumpster rental costs for detailed information about costs and fees.
Now let us break down the key elements that will determine how much you will pay to rent a roll off dumpster.
Location
Fuel costs, disposal fees, taxes, and regional regulations like landfill laws all vary by location. The demand in the area also plays a role. Renting a dumpster will cost substantially more in Washington D.C., for example, than in a small town. A 30 yard dumpster rental in CT will cost $525 on average, while the same kind of dumpster rental in Alabama probably won't reach $400.
Dumpster Size
Roll off dumpsters come in several sizes: 10, 15, 20, 30, and 40 cubic yards. A 30 yard size dumpster will cost considerably more than a 10 yard container. We can use the details of your project to help you determine how much construction waste you will have to clean up, so you get the right size container for your job.
Debris Type and Weight
Different types of debris undergo specific disposal processes, so household or construction waste will not go to the same landfill as landscaping debris. For this reason, the costs of disposal will vary as well.
In addition, the weight of debris will determine how much the landfill or processing facility will charge for disposal. Always make sure debris weight is within the dumpster's limit to avoid extra fees.
Rental Time
The longer you keep a dumpster on the construction or cleanup site, the higher your rental cost will be. Typically, dumpsters are rented for 5-10 days, so plan accordingly to reduce wasted spending.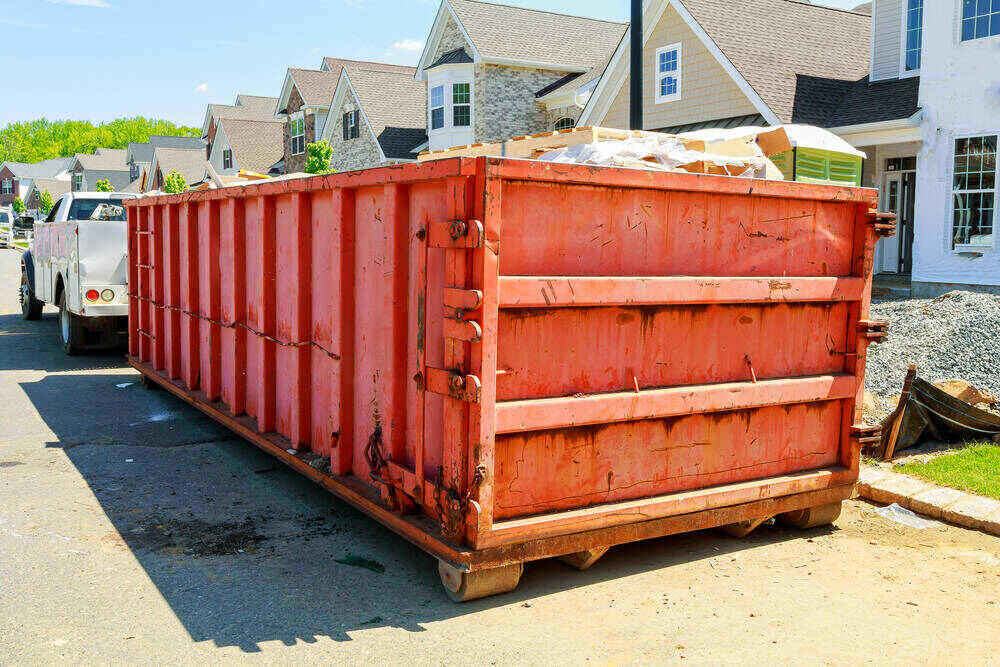 What Size of Dumpster Should I Rent?
The team at Discount Dumpster Service has over 30 years of experience working in dumpster rental and is here to help you choose the right size dumpster for your project. Take a look at the debris involved in your project, and tell us how much free space you have for the container.
Please note: While people commonly discuss dumpster capacity in terms of yards, the meaning is cubic yards.
10 Yard Dumpster
This type of dumpster has the capacity of around 50-70 trash bags and is a good fit for small-scale, short duration projects such as household junk removal, garage cleanouts, post-remodeling cleanup, etc. This dumpster size can also be used to dispose of dirt and concrete.
15 Yard Dumpster
Holding around 80-100 trash bags, a 15 yard dumpster is slightly bigger than the smallest size and is a good fit for mid-sized household projects such as single room renovations or overall home cleanouts.
20 Yard Dumpster
A 20 yard dumpster will typically fit 110-130 trash bags, or around 10 pickup truck loads of debris and waste. It is a good choice for larger remodeling and cleanup projects. A 20 yard dumpster is a popular choice for residential uses.
30 Yard Dumpster
With a capacity of around 170-190 trash bags or up to 15 pickup truck loads, a 30 yard dumpster is a good fit for large projects and is often used in new house construction, extensive renovation projects, and commercial remodeling and cleanouts.
40 Yard Dumpster
This extra-large dumpster size can hold up to 250 trash bags or 20 pickup truck loads. It is used for large scale removal of construction waste and debris, such as in big cleanups, demolition jobs, roof replacements, and new construction sites.
How to Choose the Right Dumpster for Your Project
Not all dumpster rentals are the same. The details of your project will determine the recommended dumpster size and type for you. With Discount Dumpster Service, you can choose a rentable dumpster for any purpose.
Dumpster Rentals for Residential Uses
The most commonly used types of waste containers for residential projects are the 20 yard dumpster and 10 yard dumpster sizes. These smaller-sized containers provide enough volume to cover a variety of home projects, such as:
Home and garage clean up: Excellent for large scale decluttering projects, estate consolidation, and foreclosure cleanouts
Home improvement projects: Perfect for bath or kitchen remodeling, roofing projects, and landscaping makeovers
Moving: Toss out any unwanted items as you pack up your house
Post-disaster cleanup: Dispose of yard waste, broken branches, damaged siding and shingles, and so on
Dumpster Rentals for Construction Projects
A strategically placed dumpster helps keep the construction site organized. The right sized dumpster is a must for worker safety and overall efficiency.
Roofing: The contractor will use a construction dumpster to remove discarded shingles, tiles, roofing gravel, and sheathing
Concrete removal: You will need a heavy-duty container fit to hold a large amount of discarded concrete and other heavy debris such as bricks and asphalt
Demolition jobs: These typically involve torn-down walls, lumber, windows, floor panels, broken bricks, and various construction debris
Yard and landscaping jobs: Toss branches, roots, leaves, grass clippings, dirt, and other yard waste into your dumpster
Piles of construction waste at the end of a big job can seem overwhelming, but with the right kind of construction dumpster rental, waste disposal is easy and straightforward.
Different Debris Boxes
When choosing a roll off dumpster rental, you need to consider not only the size but also the type of debris it is fit to hold. Dumpster rental debris boxes come in three main varieties:
Mixed Waste: The most universally used containers and an excellent fit for all residential uses. Mixed waste containers can hold all sorts of household debris, including discarded appliances, furniture, clothing, and miscellaneous junk and debris
Heavy Debris: These containers are most useful on construction, demolition, and larger-scale home renovation sites. They can hold anything from concrete and asphalt to bricks and rocks
Yard Waste: These debris boxes are designed specifically to store yard and landscaping debris, including plant matter such as branches, weeds, grass clippings, leaves, and wood
Speak with our team about the type of waste you will have so that we can arrange for the appropriate container types and dumpster sizes.
What Shouldn't Go in a Dumpster - Prohibited Items
While dumpster rentals are highly versatile and a roll off dumpster will accommodate a wide array of debris types, some things shouldn't go in a dumpster.
Items to keep out of your dumpster:
Chemicals like pesticides and herbicides, household cleaners, asbestos, contaminated soil or absorbent surfaces, biological waste
Food waste
Aerosol cans if they still contain some liquid, paint and lacquer cans, paint thinners
Adhesive substances like glue and epoxy
Upholstered furniture
Discarded car tires
Old batteries, both car and lithium
Refrigerators
Any flammable or explosive materials such as fuels, industrial oils, and propane tanks
Liquid construction materials, for example, cement or paint that haven't finished drying
Specific lists of what is allowed in a residential or construction dumpster will vary according to state and regional laws. Please comply with your local regulations, as failure to do so may result in fines. If you aren't sure whether you are allowed to throw something away, always double check with your local hauler.
Who drops off and collects the dumpster?
Dumpster Discount Service makes it easy to get a dumpster to rent. We will bring the dumpster to your project and place it as close as possible to your work area. So if you're cleaning off shingles, we can drop the container close enough for you to toss all debris from the roof.
Once the job is done, call our team to pick up the roll off container. You never have to worry about taking the container to the disposal center.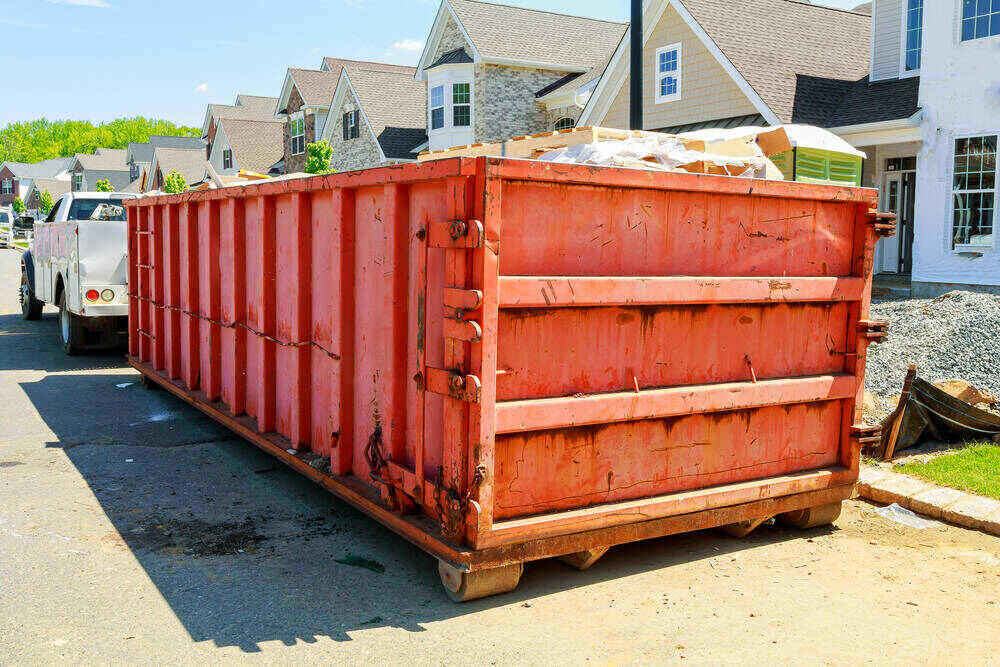 Why Choose Dumpster Discount Service?
At Dumpster Discount Service, we know all about construction dumpster rentals and can supply all standard sizes, including a 10 yard, 20 yard, and 30 yard dumpster. Whether you are planning a small-scale home project or are looking into construction dumpster rental, you will find all you need with us.
We aim to be the most reliable, knowledgeable, and affordable residential and construction dumpster rental company on the market. With our expert customer service, there are no surprises. We will always deliver your dumpster on time, with no hassle or delay.
Dumpster Discount Service operates in a variety of locations across the country, from Washington D.C. to Los Angeles, CA, so call us any time for roll off dumpster service.
For questions about roll off dumpster rental for residential or construction purposes, call us today or complete our online form.